Tribute to Sharon Wyllie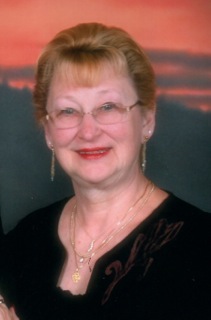 The Pancreatic Cancer Action Network has been selected as the charity for the 2012 Chicago Gathering. Our efforts are made in memory of Sharon Wyllie, who lost her battle with this ugly disease in January of 2010 after nearly a year and a half. Throughout the battle, she remained strong and even attended the Gathering in San Antonio in late summer of 2009. It was there that she and her husband, Richard, were named National Collectors of the Year by Department 56.
Sharon was the instigator behind the family collection of the Dickens' Village by giving Richard a few buildings as a Christmas present. She said that building a small display would keep him busy for awhile and then - they discovered that the buildings were a part of something much larger and, as they say, the rest is history. Sharon and Richard were members of three local clubs and strong supporters of all of them. They also attended numerous gatherings where Sharon was always volunteering, usually without being asked. She could be seen selling raffle tickets, working check-in, greeting attendees, and just being available to handle whatever came up. As one of the Dept 56 Chat Group members wrote on her passing, "she was the one selling arm lengths of raffle tickets for charity (among a zillion other things at many gatherings throughout the country). Many of you knew her, although the name might not be familiar." As the Dept. 56 manager at a gift store, she became acquainted with all of the villages and was very willing to share her knowledge with customers at a moment's notice. She never met someone she didn't like or who didn't like her.
Pancreatic cancer is the fourth leading cause of cancer deaths in the United States due in large part to the failure to diagnose the disease in its early stages. The Pancreatic Cancer Action Network is a nation-wide network of people dedicated to working together to advance research, support patients and create hope for those affected by pancreatic cancer. They raise money for direct private funding of research - and advocate for more aggressive federal research funding of medical breakthroughs in prevention, diagnosis and treatment. They fill the void of information and options by giving patients and caregivers the personalized and reliable information they need to make informed decisions. And, they help individuals and communities across the country work together to raise awareness about pancreatic cancer and the funds to find a cure. They have a vision to double the survival rate for pancreatic cancer by the year 2020 by intensifying efforts to combat the disease. To learn more, visit them at www.pancan.org/vision.