The deadline to order this building has passed!
There will be a special signing event held at The Chicago 2012 Gathering sponsored by National Council of Clubs (NCC). Ms. Lit Town, Melinda Seegers, will be available to sign the Snow Village named in her honor,

"Melinda's Poinsettias & Mistletoe."
You can either bring your own building (one per person) or you can pre-order a building and have it available at The Gathering for you to pick up and get signed.
If you are unable to attend The Chicago 2012 Gathering, but would like to have the building signed by Melinda, you can still
pre-order the building and it will be shipped to you after The Gathering for an additional $5.00.
See the side panel to click on the link to open and print your order form. Please send the form along with your payment, made out to the CHICAGO GATHERING to the address listed. The order form must be received by July 15, 2012 in order to guarantee that we will have enough pieces for everyone.
** Please see below for a Disclaimer regarding the order form.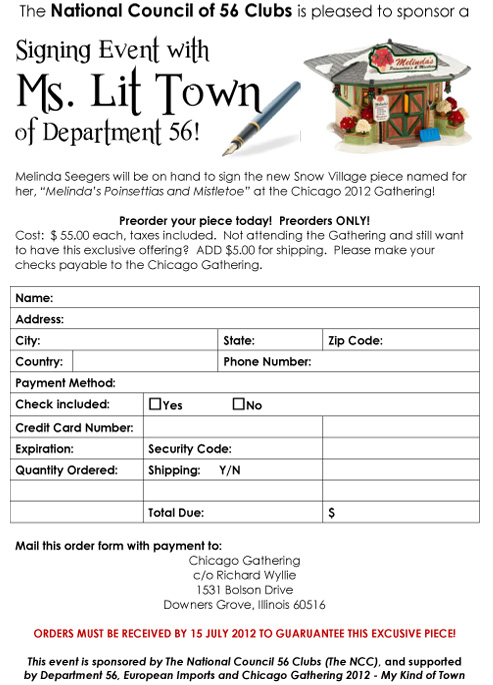 DISCLAIMER: There have been several questions asked about the form and the signing event. We hope this answers those questions.
1. An attendee to the Gathering may bring one (1) piece with them to be signed my our guest.
2. The reason for the pre-orders only is to make sure there there will be enough product for all of the folks that would not like to bring something with them. The product is limited and we want to make sure that everyone that wants one can get one.
3. Yes, the price is correct in that tax is included, and if you are not attending the Gathering, in lieu of the tax credit, a simple $5.00 for shipping is all that is needed.
4. We have set-up this event this way to allow all of the attendees the ability to not have to lug something with them and then get it back home. European Imports is the main sponsor of the Chicago 2012 Gathering.
5. ALL CHECKS SHOULD BE MADE OUT TO THE CHICAGO GATHERING.